The Debut novel by award-winning author Paddy Eger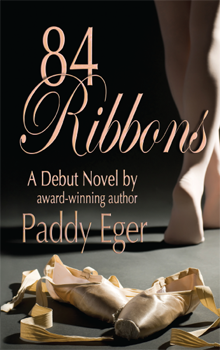 A young dancer realizes her life long dream, if only for a while.
Seventeen year old Marta Selbryth realizes her dream of becoming a professional dancer when the Intermountain Ballet Company in Billings, Montana invites her to join their 1957 season. As Marta's new life unfolds, she must learn to face not only the successes of dancing in the corps de ballet, but the challenges and setbacks that might crush the dream she's had for so long.
After a couple of mishaps, Marta settles into life in a boarding house located near the ballet company. Her landlady, Mrs. B., is friendly, reduces her rent when Marta's offers to bake for the boarder and later allows her to use the basement as a practice studio. The two male boarders are supportive; Carol, a fellow boarder, ignores her.
Marta spends her free time practicing when she's notspending time with her new friends Lynne and Bartley,her fellow corps dancers. Their time together becomesan important lifeline through their first year.
Madame Cosper, the artistic director, is a demandingwoman. Marta begins their association poorly when shemakes a disastrous choice. Expecting expulsion, Martareceives a second chance in the form of dancing the unpopularcharacter roles during the fall and winter performances.Marta determines to dance every role withconfidence in hopes of proving to Madame that she's upfor every challenge.
Steve, a young college man and a reporter, spots Martawhen he's assigned to write an article about ballet forthe local paper. He's attracted to her and begins his pursuit.Over the months ahead, he becomes her tour guideof the area and attempts to convince Marta to be his girl. But her steadfastfocus is ballet and some of her adventures with him lead to problems withMadame Cosper.
Shortly after Christmas, everything changes for Marta, Bartley andSteve. Significant events permanently influence their lives. Each mustdeal with exhilaration and heartbreak as well as frustration and changesthat test their ability to cope.

Praise for 84 Ribbons
...riveting ballet story... A pure coming-of-age tale with moments of quiet drama,'84 Ribbons' is about thriving despite the imperfections of life. – Read the full review here. –

—Leia Menlove
YA ForeSight
ForeWord Reviews
---
....believable characters who tell an engaging story, 84 Ribbons is sure to please YA readers, giving them a true heroine, who dares and strives to dream big.
—Lauraine Snelling
Author of the Red River of the North series,
Wild West Wind series, Wake the Dawn,
S.A.V.E. Squad series and more.
---
Any young dancer will find herself in Marta's story.
—Newbery Honor
author Kirby Larson, Hattie Big Sky
---
A compelling coming-of-age novel, Eger's look inside the world of ballet offers both inspiration and heartbreak.
—Miriam Wenger-Landis,
former ballerina with the Miami City Ballet
& author of Girl in Motion & Breaking Pointe
---
As a mother of a teenage dancer, I read the story and thought about how my daughter would handle herself if she faced the obstacles Marta experienced. The story gave me hope that with a little guidance, she'd find her way much like Marta did.
—Eileen S.
---
I'm a high school junior and I've danced competitively since elementary school. I enjoyed 84 Ribbons because it's about an ordinary girl from a small town who has the talent and the passion to pursue her goal to dance! The heroine,Marta, gave me hope for any challenge I might face.
—Riley H., Student and dancer