The Debut novel by award-winning author Paddy Eger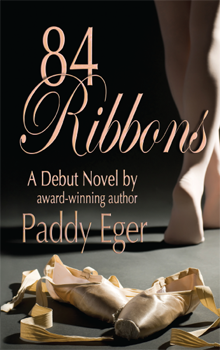 A young dancer's realizes her life long dream, if only for a while.
Seventeen year old Marta Selbryth realizes her dream of becoming a professional dancer when the Intermountain Ballet Company in Billings, Montana invites her to join their 1957 season. As Marta's new life unfolds, she must learn to face not only the successes of dancing in the corps de ballet, but the challenges and setbacks that might crush the dream she's had for so long.
After a couple of mishaps, Marta settles into life in a boarding house located near the ballet company. Her landlady, Mrs. B., is friendly, reduces her rent when Marta's offers to bake for the boarder and later allows her to use the basement as a practice studio. The two male boarders are supportive; Carol, a fellow boarder, ignores her.
Marta spends her free time practicing when she's notspending time with her new friends Lynne and Bartley,her fellow corps dancers. Their time together becomesan important lifeline through their first year.
Madame Cosper, the artistic director, is a demandingwoman. Marta begins their association poorly when shemakes a disastrous choice. Expecting expulsion, Martareceives a second chance in the form of dancing the unpopularcharacter roles during the fall and winter performances.Marta determines to dance every role withconfidence in hopes of proving to Madame that she's upfor every challenge.
Steve, a young college man and a reporter, spots Martawhen he's assigned to write an article about ballet forthe local paper. He's attracted to her and begins his pursuit.Over the months ahead, he becomes her tour guideof the area and attempts to convince Marta to be his girl. But her steadfastfocus is ballet and some of her adventures with him lead to problems withMadame Cosper.
Shortly after Christmas, everything changes for Marta, Bartley andSteve. Significant events permanently influence their lives. Each mustdeal with exhilaration and heartbreak as well as frustration and changesthat test their ability to cope.

Praise for 84 Ribbons
....believable characters who tell an engaging story, 84 Ribbons is sure to please YA readers, giving them a true heroine, who dares and strives to dream big.
—Lauraine Snelling
Author of the Red River of the North series,
Wild West Wind series, Wake the Dawn,
S.A.V.E. Squad series and more.
---
Any young dancer will find herself in Marta's story.
—Newbery Honor
author Kirby Larson, Hattie Big Sky
---
A compelling coming-of-age novel, Eger's look inside the world of ballet offers both inspiration and heartbreak.
—Miriam Wenger-Landis,
former ballerina with the Miami City Ballet
& author of Girl in Motion & Breaking Pointe
---
As a mother of a teenage dancer, I read the story and thought about how my daughter would handle herself if she faced the obstacles Marta experienced. The story gave me hope that with a little guidance, she'd find her way much like Marta did.
—Eileen S.
---
I'm a high school junior and I've danced competitively since elementary school. I enjoyed 84 Ribbons because it's about an ordinary girl from a small town who has the talent and the passion to pursue her goal to dance! The heroine, Marta, gave me hope for any challenge I might face.
—Riley H., Student and dancer
Run away… run away and hide! the voice in her head screamed.

Summoning every ounce of power and courage Mienya possessed, she manipulated her own energy to flare around her. Almost instantly, the room grew unbearably hot. Garin yelped and dropped her hand as orange tongues of fire scorched his hair and his body.

Mienya is only twelve when her twisted older brother, Garin, kills nearly everyone on Ckanizar, their home planet. Having lost everything dear to her, Mienya must fight to prevent Garin from destroying other worlds. As a winged Guardian — a being born only once every 5,000 years with the ability to wield tremendous energetic power — Mienya knows that she is the only one who can stop him.

Her pursuit brings her to Earth, where she meets three students — Robin, Nathan, and Christopher — who risk their lives to fight Garin and to protect Mienya. What begins as a tussle over an alien world quickly becomes personal for this trio as they join Mienya in a battle to save planet Earth and everyone on it.

So begins The Guardian series.

The Last Guardian



Publisher's Price: $16.95




Delve into matters of magic and miracles, power and perversion, and the fine line that separates them.

Boann's Daughters is the tale of a twelve hundred-year-old
conspiracy. Liora, the scion of two ancient magical bloodlines,
has no notion that she has been watched all her life. Nor does
she realize that her stubborn refusal to acknowledge her power
endangers everything and everyone she loves. When she and
her dearest friend, Effe, stumble into a web of castle intrigue
they awaken dark forces that have simmered since the birth
of the new church. Pursued by evil she does not comprehend,
Liora › flees to the holy isles of Scotland. Marooned in a sea
cave, she must master a lifetime of learning and muster the
courage to face a sorceress driven by bloodlust—all before the
coming of spring. š The legacy of Lorcan's Bane continues in this
story of magic, myth and mayhem.




Boann's Daughter
a tale of magic, myth and mayhem
The Gift of the Lotus Flower
The Saga of the last thirty years of Atlantis continues as the temple children enter into the awkwardness and insecurity of adolescence. The nations of Gaia have grown desperate from the constant attacks by the Warlord Conak and unity is threatened. In their panic, they turn on the temple youth whom they believe have failed to protect them from the warrior race of Anu. The youth become the unwilling target of both worlds as they struggle to survive and fulfil the destiny for which they were born.

The Atlantis series is a haunting tale of prophecy that begins in the death throws of our world's first civilization and carries us through the pages of our history to a time in the near future.

Born of events seen and recorded through the gift of spiritual vision, the last thirty years of this ancient civilization comes alive in a captivating, yet inspirational story of survival. It is a tale woven through the pages of our past, filled with timeless lessons of wisdom and courage, ultimately leading the reader to transverse the veil between what has been and what is yet to be and challenging them to see the world today as they have never seen it before.

In a book filled with warlords and warriors, mythical beings, and endearing but very human heroes, this story will appeal to all readers of Fantasy, Science Fiction, and New Age.

The Gift of the Lotus Flower

Atlantis Volume II


Publisher's Price: $16.95

978-0-9763706-9-7
Trade Paper
312 Pgs
More Articles...